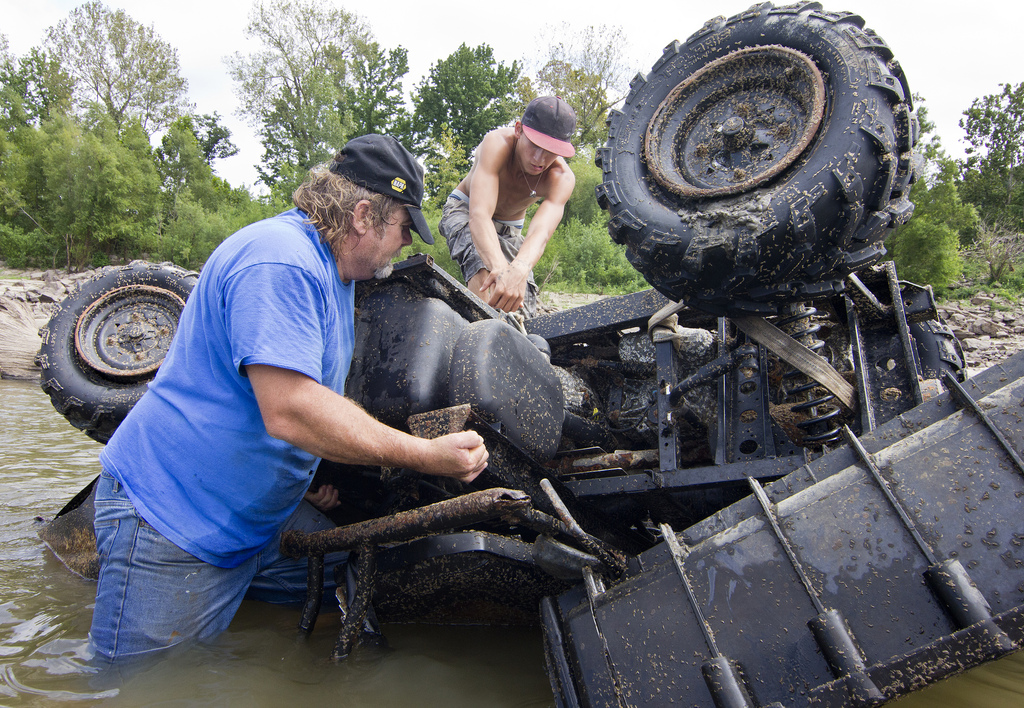 Archie Busby, left, of Cairo, Ill., and Pierre Hayden, of Cape Girardeau, Mo., salvage a flipped over all-terrain vehicle on Sept. 2, 2013 in the Mississippi River. The vehicle was allegedly ran into the river and abandoned.
Shannon Lambert, 2, of Marion, Ill., receives her dog tags after she and her father Nicholas participated in the inaugural "Run for the Warriors 5K" on March 22, 2014 at Southern Illinois University Carbondale's Campus Lake.
Val Kendrick sweeps up litter left over from Unofficial Halloween on Oct. 18, 2014 outside of Sam's Café and Wise Guys Pizza and Subs in Carbondale, Ill. Kendrick said he does maintenance for both buildings. "If either one of them has a problem, they call me," Kendrick said. "I don't mind sweeping all this up, it's a job."
The Rev. Joseph Brown, a Southern Illinois University Carbondale professor in Africana Studies, consoles Ben Smith during a die-in demonstration on Dec. 9, 2014 in Carbondale, Ill. Smith was one of several speakers during the die-in, and said he wanted to inspire the attendees and release his frustrations about two white police officers not being indicted for killing two black men in separate incidents. "It was therapeutic," Smith said. "I'm serious about change."
From left, Bob Clark, Greg Vickers Sr. and Roy Ewalt pray at the conclusion of the first Bible Study in the Multipurpose room on Sept. 14, 2015 at Knox County YMCA in Galesburg, Ill.
Gabby Nunes, 6, of Galesburg, Ill., attempts to blow out her candle during a candlelight vigil at the conclusion of the 22nd annual Take Back the Night Rally Oct. 20, 2015 at the Lake Storey Pavilion in Galesburg, Ill.
Angie Craig, of Wataga, Ill., eyes a 36-inch giant plush bear while shopping on Thanksgiving evening, Nov. 26, 2015 at Target in Galesburg, Ill. Target opened their doors as early as 6 p.m.
Audience members react as the Galesburg District 205 School Board votes on $3.2 million in budget cuts during a meeting Jan. 11, 2016. The cuts affect up to 75 positions in the school district, with 29 of them teaching positions.
Rhonda Morgan, of Canton, Ill., left, holds her granddaughter Madilyn Carol Cass, 4, of North Liberty, Iowa as they listen to Reva Schoenwetter, of Knoxville, Ill., play a tune on the harp during the Galesburg Historical Society's 30th annual Chocolate Festival Feb. 13, 2016 at 156 East in Galesburg, Ill.
A grain complex is silhouetted by a "blood red sky" on March 11, 2016 west of Galesburg, Ill.
Paige Yocum, of Galva, Ill., center, collects her thoughts during a balloon release on March 17, 2016 for Dakota Tinkham, of Galesburg, Ill., who was killed in a home invasion on March 16.
Terry Woolsey, of Galesburg, Ill., loads memorabilia from the old Silas Willard Elementary School building into his truck during an open house for the old and new buildings on April 2, 2016. During the open house, community members could go through the old building for one last time and get a first look inside the new building.
Firefighters hose down the exterior of Performance Pattern and Machine, 2421 SW Adams St. in Peoria, Ill., after extinguishing a fire Sept. 17, 2016. The fire started in a second floor storage area. An employee working in the sub-basement of the building escaped without injury. No one else was in the building at the time of the fire.
Sydney, a 3-year-old Carolina dog, places her flying disc on Macon Nalepka, of Wyoming, Ill., as he rests in the grass during Woofstock Oct. 2, 2016 at Wildlife Prairie Park's Old Farm near Edwards, Ill. Woofstock is a fundraiser that benefits the Stray Animal Midway Shelter, or SAMS, a no-kill animal shelter in Hanna City, Ill.
The damage done from a natural gas explosion in Canton, Ill., on Nov. 16, 2016 is seen. The explosion killed one person, injured others and damaged many buildings along the square.
Zoie, a three-year-old Shichon, gives Santa a kiss prior to her photo being taken with him Dec. 4, 2016 in the J.C. Penney court at Northwoods Mall in Peoria, Ill.
Andrew Wolfe, 10, of Metamora, Ill., keeps his hands warm after building a fire Jan. 14, 2017 as part of a winter survival class, during the Chill Billy Winter Sporting Event at Camp Wokanda near Chillicothe, Ill.